No Comments
Chhath puja, Mahaparv of Bihar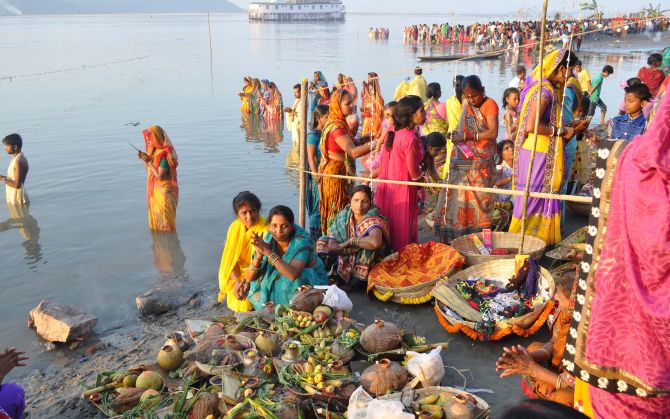 Chhath puja, Mahaparv of Bihar is a Hindu festival. Chhath puja dedicated to the Sun God and Chhathi Maiya. Chhath puja is performed two times in year. First on Kartika Shukla Shashthi, which is the sixth day of the month of Kartika in the Vikram Samvat(Hindi Calendar). Second on chaitra Shukla Shashthi. Most of people performed during Kartika month. According to Hindu mythology Karan the king of Anga desh (present day Bhagalpur and Munger) first did this puja.
This is four days festival starts from Nahay khay, on this day the vratin (devotees) take a dip in the nearest river or pond and carry home the holy water of these historical rivers to prepare the offerings. The ladies observing the Vrata called vratin allow themselves only one meal on this day.
Second day called Kharna, vratin offerings of Kheer, Roti(chapati) and bananas, after puja these are distributed among family and friends. The Vratins go on a fast without water for 36 hours.
Third day called Sandhya Arghya, this day Vratins go to nearest river or pond with friends and family or create a small pond in front of their home or on roof. Vratins offerings Arghya to the setting sun.
Final day called Morning Arghya. Vratins offerings Arghya to the rising sun. The festival ends with the breaking of the fast by the Vratins. Friends, Relatives visit the houses of the devotees to receive the prashad. Thekua and fruits and sugar cane are the main prashad of Chhath puja.
Chhath puja mostly elaborately by people of Bihar, Jharkhand and eastern part of Uttar Pradesh. Apart from India, in Nepal, Mauritius, Fiji, Trinidad and Tobago, Guyana, Suriname and Jamaica's people celebrate Chhath puja. Chhath puja also celebrate in Hindi month Chait called Chaiti Chhath. Chaiti Chhath celebrate by less people. Winter Chhath puja is more popular than Chaiti Chhath. Goddess Sita and Dropati also performed the Chhath. For Chhath puja people clean their house, Ghat (bank of river or pond) and clean the road which to the Ghat and decorate road and Ghat with colorful light.
अपने दोस्तों और रिश्तेदारों को अपने नाम के साथ छठ महापर्व की शुभकामना दे! यहाँ क्लिक करे